SERVICES
Our services
Our goal: to provide you with a complete solution when you use our equipment for measuring air contamination. This is why AEROMETRIK offers a wide range of services. We support you in the implementation and monitoring of our equipment on your production lines or in the integration of your environmental monitoring tools. Our services are adapted to your needs and your environment. We offer you high-quality services that integrate all the parameters of your production.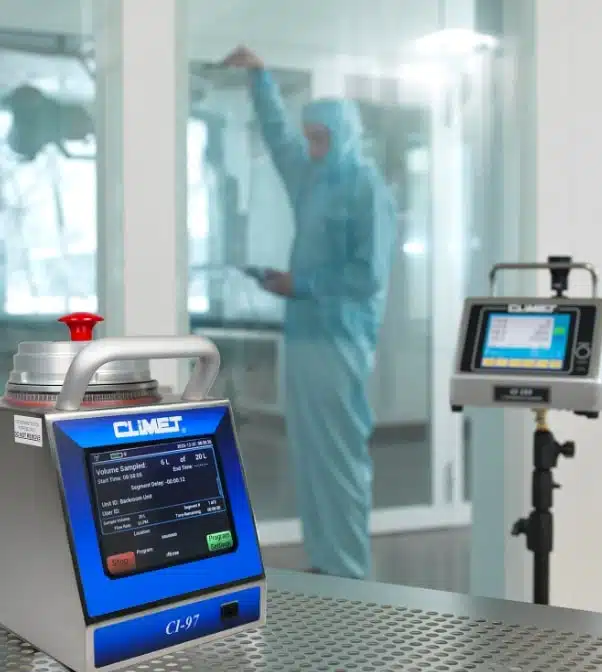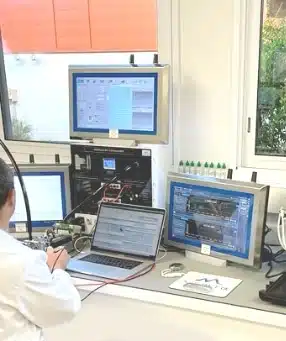 Metrological verification
The measuring and control equipment used to guarantee precise monitoring of environmental conditions in production areas requires highly precise metrological monitoring. This monitoring limits the risk of non-compliance or equipment drift as much as possible.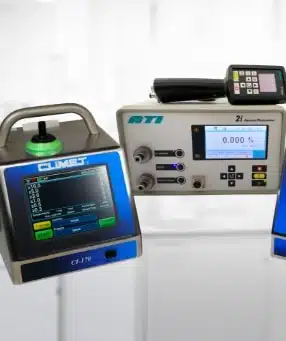 Air quality measuring equipment rental
Do you need additional measuring equipment for ensuring controls measurement continuity? For example, you are facing:
a punctual activity overload;
an equipment breakdown;
a metrological verification device halt?
Read more
Call us for a rental!
You can also use your rental as:
a temporary solution for a future investment;
a trial or evaluation of the instrument before investing.
Our measuring instrument rental service gives you access to a wide range of the latest equipment:
CLIMET particle counters and germ collectors;
portable photometers and ATI aerosol generators;
Accubalance TSI balometers;
TSI multifunctional anemometers.
Equipment is made available within 48 hours (depending on availability), and is delivered complete with accessories, calibration certificate and operation instructions.
Our metrology laboratory team calibrates and monitors your equipment after each measurement campaign. We also deliver metrological verification reports for long-term rentals.
Our rental service includes telephone support. We will advise you and answer your questions throughout the entire rental period.
Read less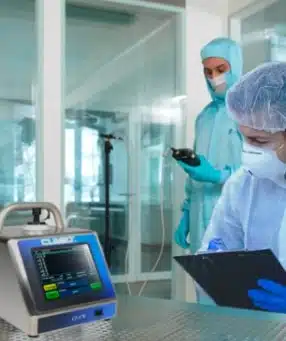 On-site qualification of marketed equipment
Our priority: High level service for high-quality equipment.
In order to guarantee optimized use of our equipment on your production lines and in your cleanrooms, AEROMETRIK offers on-site qualification services. These services guarantee the proper functioning of our equipment in your environment.
Read more
During the qualification process, we provide proof of:
conformity of characteristics based on your specifications;
expected performance of the equipment in your environment and according to your use.
This service is based on the different qualification process stages:
Installation Qualification - IQ

Operational Qualification - OQ

Performance Qualification - PQ
Each step is adapted to your needs and to your applicable standards. It involves four phases:
Drafting of protocols according to your standards;

Verification and approval of the protocols by your qualification team;

Planning and execution of the protocols at your site by trained and authorized personnel;

Analysis of the results and report write-up.
In order to deliver these services, we will go on your site if necessary, with additional calibrated material needed for the qualification. Our qualified team perform these services in compliance with Health and Safety regulations, with individual protective equipment.
Beyond the qualification objectives, these services are a privileged discussion moment to share with you, your experience. We are at your disposal to discuss any problems you may have in using our equipment or interpreting the data. Our teams have the necessary expertise to guide you, teach you good practices and offer customized solutions. Our objective: to ensure the reliability of your measurements.
Read less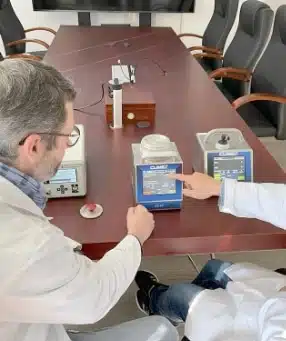 Practical training on our measurement equipment
Our experts will guide you in the use of our measuring equipment to ensure compliance in your controlled contamination areas.
Customer satisfaction is our priority. For optimal use of our equipment, we offer training on your site to assist and support implementation of your on-site procedures.
Read more
Our trainings allow you to aquire a complete understanding of your control equipment, enabling you to perform your measurements independently, quickly and efficiently.
We also help you to define your installation control parameters. At the end of the training, you will be fully familiar with the device and its applications.
Training support is determined according to your needs:
on-site;
via video conference;
by téléphone.
Training is available in different formats:
use of enforced standards and guidelines (ISO NF EN 14644; Good Manufacturing Practices and pharmaceutical production, etc.);
question and answer session to address all of your questions;
assistance in writing or reviewing your test procedures/protocols.
Read less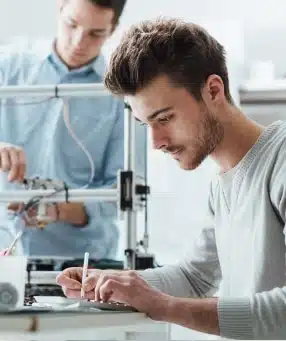 Technical support
Our experts are at your disposal to find the best solution. According to your constraints and required specifications, we can modify our devices to provide you with customized solutions.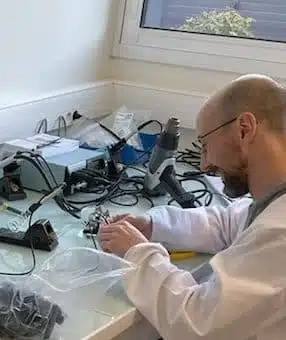 Project support and consulting
A project consists of several phases requiring different resources and skills. AEROMETRIK provides indoor air quality measurement equipment that must be integrated into a pre-defined environment and therefore requires:
Read more
definition and justification of measurement points
process integration with minimum impact on the environment;
development and design of custom-made supports and adapters;
optimized installation that complies with regulatory standards;
adaptation of equipment to the company's standards.
In addition to the measurement accuracy guaranteed by our equipment, we will support you through all project phases, beginning with design and supply of accessories to complete equipment installation. This service guarantees full compliance during qualification and customer or third-party audits.
Read less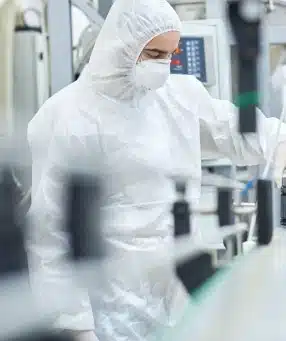 Impact study and operational maintenance plan
However reliable equipment may be, incidents, malfunctions or abnormal metrological drifts may occur. In these rare cases, it is necessary to conduct an impact study to determine the effect of the malfunction on production.
Read more
Our Expertise and Metrology department conducts tests and simulations to evaluate impact as best as possible: the extent of the deviation and an estimate of the fault date.
Impact studies can be long and costly. Considering the industrial logic of batch release, it is worthwhile to consider establishing a Maintenance in Operational Condition plan to guarantee equipment reliability with reasonable risk adaptation actions. Our Expertise and Metrology department advis
Read less
a team of air quality experts
AEROMETRIK checks, repairs and certifies your control devices, for ever more precise control of your production environments
The classification of your contamination-controlled area is defined by ISO 14644-1 and the measurement methods described in ISO 14664-3.
AEROMETRIK is a major player in the application of this standard, through its participation in the definition of ISO 21 501-4 for the conformity of particle counters used for the qualifications and periodic inspections of clean rooms.