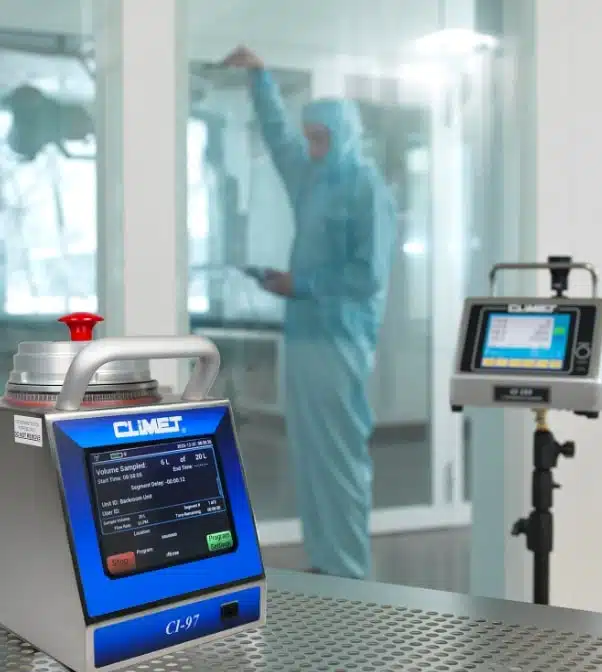 Cleanroom qualification
Your cleanrooms require constant particle concentration control. The introduction, generation or retention of particles in these areas must be reduced to a strict minimum and monitored.
This expertise and supervision are applied to all activities who required controlled of air quality (pharmaceuticals, biotechnology, hospitals, electronics, etc.).
AEROMETRIK offers a full range of solutions for cleanroom qualification:
Supply and rental of qualification equipment;
Clean room validation services;
Metrological verification and maintenance.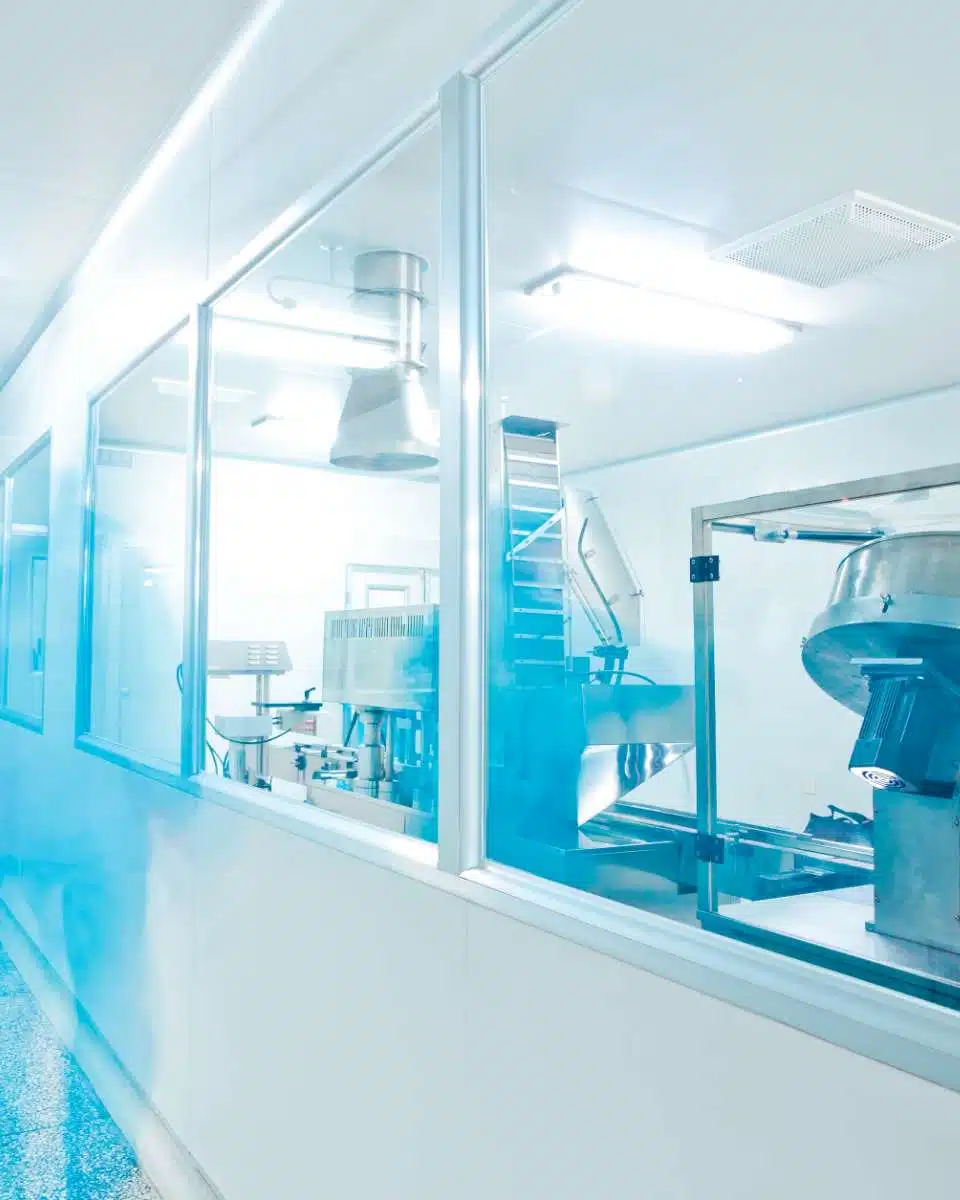 CLEANROOM
Standards related to use and verification of qualification equipment
Specific standards are related to use of qualification equipment:
ISO 14644-1: Cleanrooms and related controlled environments. Part 1: Classification of air particulate cleanliness;
NFS 90-351: Health establishments. Controlled environment areas. Requirements for the control of airborne contamination;
GMP: Good Manufacturing Practices for the pharmaceutical industry;
ISO 14698-1: Cleanrooms and related controlled environments: control of biocontamination.

EN 17141:2020 : Cleanrooms and associated controlled environments - Biocontamination control
Other standards provide a framework for the periodic verification of particle counters:
ISO 21501-4: Determination of particle size distribution. Methods for light interaction of single particles. Part 4: Airborne particle counter in scattered light for clean spaces. Standard revised by ISO 21501-4: 2018;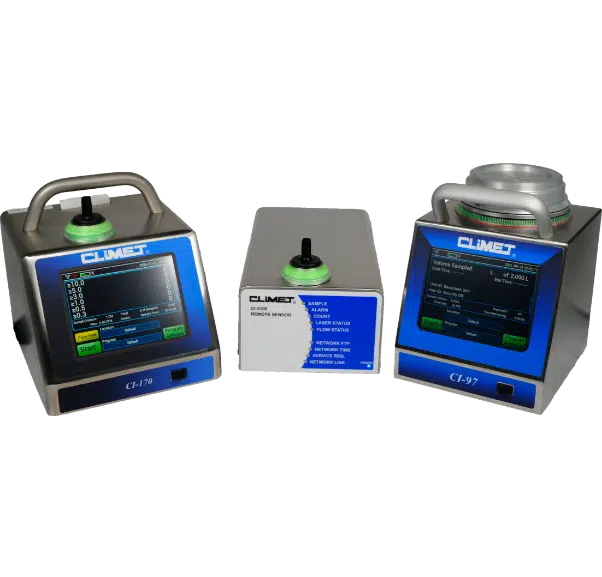 Our equipment: what are they used for?
Our measurement solutions are necessary for several purposes:
Control of active and inactive production areas;
Annual and bi-annual cleanroom qualification;
Compliance of new installations or installations after maintenance or revamping.
All our equipment's are designed to control operating rooms, cleanrooms, microbiological safety stations, isolators, RABS and laminar flow.
Our equipment: which types of controls and test methods?
Our equipment is useful for many types of controls:
Particle counting;

Temperature and humidity measurement;

Air flow and differential pressure measurement;

Leak detection on filtration elements;

Containment leak testing;

Detection of microbiological air contamination;

Recovery testing.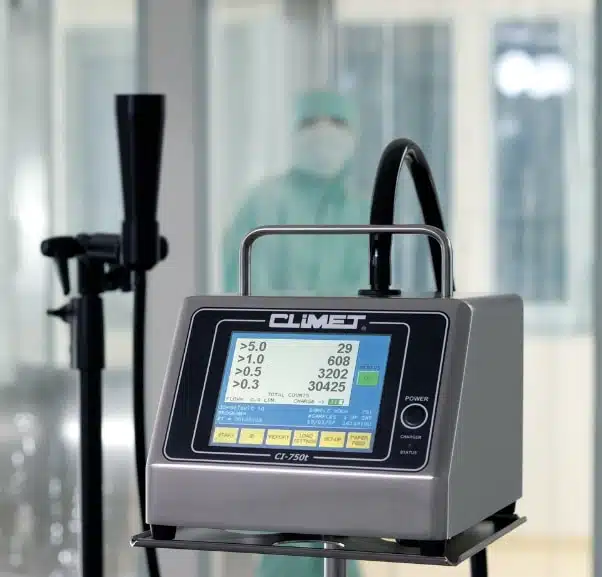 Our cleanroom qualification equipment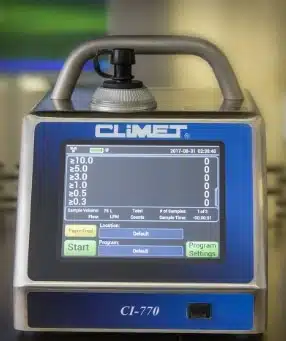 Portable particle counters
The CI-x70 series includes the smallest and lightest portable particle counter in the CLIMET range and has many advanced features. It is guaranteed for industrial use, especially in the pharmaceutical industry.
Read more
The CI-x5x series is renowned for its robustness and reliability. It is suitable for the pharmaceutical and biotechnology industries.
CLIMET particle counters comply with current standards.
Read less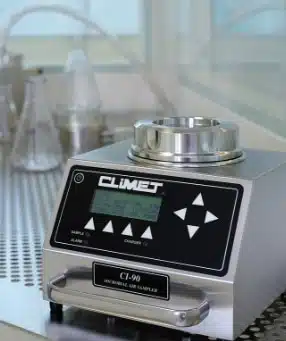 Microbial samplers
The CI-9x series microbial samplers are currently the only equipment available on the market that complies with the ISO 14-698 standards and recommendations.
Read more
The CI-95A, CI-90A and CI-97 are used in sequential or continuous monitoring applications in aseptic areas and offer sample traceability.
The CI-99s are used for monitoring isolators, RABS systems and biological safety cabinets (BSCs).
Read less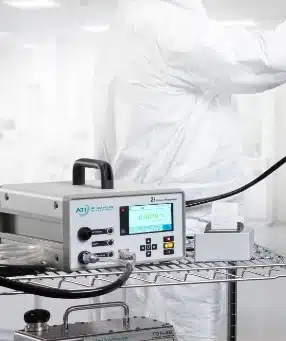 Aerosol generators and photometers
Air Techniques International (ATI) designs and manufactures test equipment for HEPA filters, filter media, filter cartridges, respirators and protective masks for various particle sizes.
Read more
The Model TDA 2i portable digital photometer is designed for in-situ filtration system integrity testing. It complies with NSF 49, IEST and ISO-14644 standards.
The TDA 5D hot generator allows generation of high concentrations in the plenum, saving time for integrity testing.
The TDA 6D cold generator (stand-alone, integrated compressor) is designed for use in microbiological safety cabinets, laminar flow hoods, RABS, isolators, negative pressure filtration units, ceiling modules, etc.
The TDA 4B / 4B Lite cold generator (require external compressor) allows testing of all sizes of filter systems.
Read less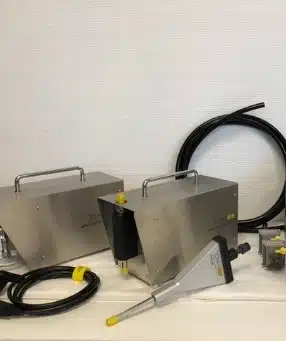 Topas generators and dilutors
The ATM 226 and ATM 228 (adjustable flow rate) associated with the DIL 554 dilutor (1/100th) offer an alternative to generator and photometer solutions for integrity tests on small equipment (insulators, RABS, etc.).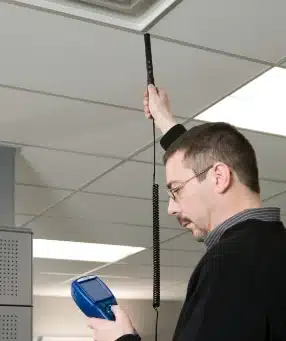 Velocicalc tsi thermo-anemometers and multimeters
These devices allow for the measurement, control and recording of environmental parameters:
Speed
Pressure
Flow rate
Temperature
Relative humidity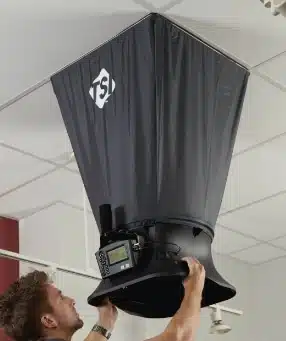 The tsi balometer
The TSI 8380 balometer associated with its specific flow measurement hoods allows for the measurement and recording of flow rates at the filter outlet, in air supply and in air recovery.
Our equipment guarantees
Only one supplier. We provide you all necessary equipment for cleanroom qualification and all accessories and consumables.
Equipment advice and support. Telephone assistance is included in your contract. You don't pay any extra fees if you need to contact us.
Metrological verification of your equipment. We maintain your equipment in operational condition with regular involvement from our metrology center. We are the sole manager of our equipment fleet.
Rental capacity. We can rent all necessary equipment on short notice.